About Us
TG Household & Commercial Kitchen Supplies is affiliated with Gedung Borong Tigi Sdn. Bhd.
which acts as a comprehensive private limited company involves both in warehousing and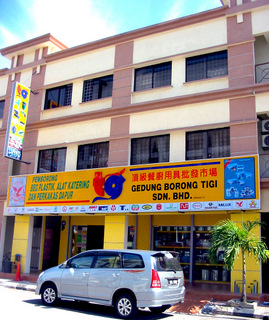 trading
office for many manufacturers locally and globally.
Our warehouse covers an area of 2,000 square meters is strategically located near Port Klang
in Malaysia. We have a vast experience in handling import and export of
household and commercial kitchen products since 1998.

Our three showrooms with a total area of 1,000 square meters display a wide range of kitchen
utensil, catering equipment, folding tent, packaging material, hotel supplies, industrial plastics
container, restaurant furniture and stainless steel commercial kitchen equipment.

Being a professional wholesaler and retailer in the market, we are able to meet most of the
customer requirements. Besides keeping on with sourcing and developing new range of products,
we are constantly upgrade our global trading practice and quality control system. The end result
of all these is to provide you a wider range of top quality product at most competitive ex
warehouse price.

We are committed with a mission to be YOUR FRIENDLY, RELIABLE & TRUSTWORTHY BUSINESS
PARTNER in fulfilling our vision as to GLORIFY GOD ALL THE TIME.
---
OFFICE & WAREHOUSE:
BAYU PERDANA, KLANG
No. 11 & 15, Jalan Batu Unjur 8, Bayu Perdana, 41200 Klang, Selangor, MALAYSIA.
Tel : +603-3324 0465
Fax : +603-3326 3385
Careline : +6012-2067 185
Email : gedungtg@gmail.com
OUTLETS:
1. BAYU PERDANA, KLANG
No. 17 & 19, Jalan Batu Unjur 8, Bayu Perdana, 41200 Klang, Selangor, MALAYSIA. ( Click-To-Map )
Tel : +603-3324 0465
Fax : +603-3326 3385
Careline : +6012-2067 185
( Click-To-Map )

2. JALAN KAPAR , KLANG
No. 4, Lorong Sungai Beting, Batu 3 1/2, Jalan Kapar, 41400 Klang, Selangor, MALAYSIA. ( Click-To-Map )
Tel : +603-3344 8969
Fax : +603-3344 8969
( Click-To-Map )

3. SRI ANDALAS , KLANG
No. 28, Jalan Sri Sarawak 14, Taman Sri Andalas, 41200 Klang, Selangor, MALAYSIA. ( Click-To-Map )
Tel : +603-3323 2741
Fax : +603-3323 2741
( Click-To-Map )